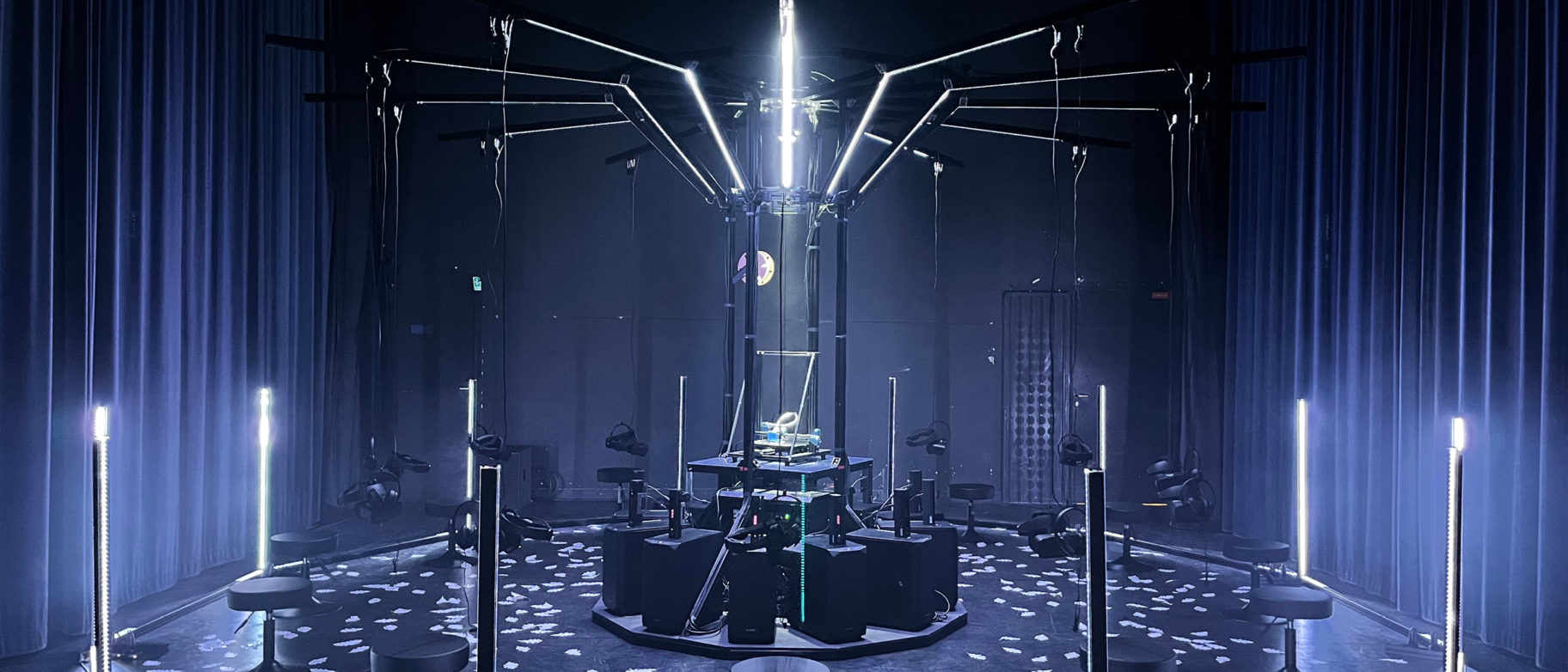 © INVIVO
Future Is Sensible Competition
International Premiere
Julien Dubuc, collectif INVIVO
France
With
Sumaya Al-Attia, Jean-Rémy Chaize, Jeanne David
Twelve blind people form a circle around a dead body: that of the priest responsible for taking them to the hospice. Adapted from Maurice Maeterlinck's text, this piece of collective immersive theater questions our perception of existence and the world.

For 12 participants simultaneously. 

Due to the specificity of the experience, the session must start on time. Please arrive at the venue 10 minutes before the time indicated on your ticket.
---
Twelve spectators, twelve blind people. Abandoned in a freezing world, where only the disembodied echo of a forest in agony remains, by the priest whose job it was to take them to the hospice. The same priest who lies dead at their feet. Who are we? And who are they? Adapted from Maurice Maeterlinck's text of the same name, this piece of collective immersive theater questions our perception of the links we maintain with our world, through our own eyes and through the contemporary filter of virtual reality. A subtle treatment of space, light and sound results in a profound and captivating experience not to be missed.
Laurent Kempf
---
Creation
Julien Dubuc, collectif INVIVO
Key collaborators
Key collaborators
Grégoire Durrande, Antoine Vanel - Blindsp0t
Screenplay
Maurice Maeterlinck
Production
INVIVO
Co-Production
Les Gémeaux - Scène Nationale de Sceaux (Severine Bouisset), Théâtre Nouvelle Génération - CDN de Lyon (Céline Le Roux, Joris Mathieu), Théâtre de l'Union – CDN de Limoges (Aurélie Van Den Daele), LUX, scène nationale de Valence, Némo - Biennale internationale des arts numériques - Arcadi Île-de-France
With
Sumaya Al-Attia, Jean-Rémy Chaize, Jeanne David, Grégory Fernandes, Alexandre Le Nours, Maxime Mikolajczak
Supported by
CNC Centre national du cinéma et de l'image animée, DRAC Auvergne Rhône-Alpes - Ministère de la culture et de la communication - France, La Region Auvergne-Rhône-Alpe,, Ville de Lyon, Théâtre des Ilets - CDN de Montluçon - France, La Maison du numérique, Saint-Clément-les-Places
---
Julien Dubuc
1987, France
Prior works
2020, Tesseract
2018, 24/7
2015, Blackout
2014, Parfois je rêve que je vois
collectif INVIVO
France
Prior works
2020, TESSERACT (0.00/0.00)
2019, CÉTO
2018, 24/7
2015, BLACKOUT
2014, PARFOIS JE RÊVE QUE JE VOIS